Christ Church St. James Memorial Garden and Cemetery
Located at 329 Royal York Road, Etobicoke, on the site of the historic churchyard of Christ Church Mimico, it was established in 1827 and recorded its first burial in 1834. It took its present shape after the 2006 fires that destroyed the third (1956) Christ Church building.
The early pioneer families of Gamble, Fisher, Giles, Hicks, Goldthorpe, van Every, Murray, Horner, Arlidge, and Greey are all buried here. Today the Memorial Garden and Cemetery provide a unique urban cemetery space for people who love the community and a peaceful garden for restful contemplation. Today it serves as a garden for the benefit of the people of Mimico and beyond. In 2013 we were part of the Doors Open Toronto weekend event and hope to continue to be part of it in years to come. A summer-time guided tour can be arranged with some notice – please contact the Cemetery Manager or Church Office.
Cemetery Board
Jeff Coatsworth, Chair
Joan Connor
Don Gill, Manager
Pete Pynenburg, Warden
Chris Simmill
Doug Simmill
The Cemetery is considered an active, licenced cemetery (operator number CM-04215) by the Bereavement Authority of Ontario (www.thebao.ca) under the Funeral, Burial and Cremation Services Act (2002).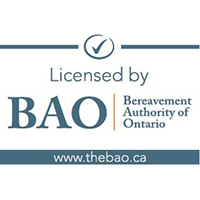 To see the BAO's Consumer Information Guide – A Guide to Death Care in Ontario, see this link –
https://thebao.ca/for-consumers/consumer-information-guide/
Plots and niches are still available and are attractively priced – please contact the church office at 416-251-8711 or Don Gill (Cemetery Manager) at 647-519-3647 for details. Click here for our current price list. Click here to download our brochure.
July 2015 – Looking East Image
View of the Memorial Garden and Cemetery 2012
July 2015 Looking West Image
Processing from the Parish Hall 1950s